Customers' expectations can be very demanding. As consumers, we are offered purchasing choices hundreds of times a day, and we've come to love and expect it! However, service providers such as plumbers, electricians and HVAC technicians have been slow in adapting to these new demands.
Meeting customer demands is a difficult task. It's very complicated for plumbers, electricians and HVAC service providers to simultaneously meet the needs of property managers, residential homeowners, commercial clients, government entities and industrial complexes. Each type of customer expects service businesses to provide services specially tailored to them, and each of them needs different pricing with a different level of service. While it's difficult enough to present pricing to each client as an individual, it's even more difficult to train technicians to consistently do the same. Training and monitoring technicians to consistently and accurately present services to different types of clients without assistance can seem like an impossible task.
Nevertheless, the service industry knows it needs to change. Do you remember when you use to have to pay for email? Remember Blockbuster? The Walkman? How about the Compact Disk? Paper Maps? The Payphone? Dial-up? If plumbers, electricians and HVAC technicians aren't wise enough to quickly respond to their customers' expectations, people will shop elsewhere. Customers are used to having several choices.
While Choice can be difficult to provide to your customers, Zip Solutions has made it easy. We've built field service management software to help you simplify your operations, delight your customers and grow your business. You can pick from a selection of presentation templates, customize them to your business, and wow all of your customers! Our field service software offers your customers Choice with minimal hassle to your front office. With Zip Solutions, you no longer have to worry about technicians offering the right products and services to the right customer; technician training has never been simpler.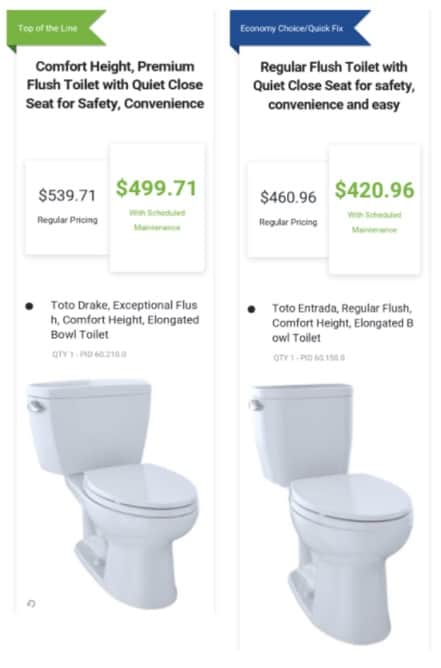 Zip Solutions helps you create more happy customers. When customers are happier, they buy more! When they buy more, you have more financial breathing room, and you have more freedom to grow your business, reach your goals or even take a well-deserved vacation.
Schedule a demo today to discover how you can better offer customers Choice that leads to greater financial freedom.