"If everything has changed, do you have courage to believe you can stay the same? I don't think you can. I think you need to adapt…Adapting is the key."
In the midst of the Coronavirus Pandemic, there is at least one thing everyone can agree on – things have changed. It's not business as usual.
With a 16.4% decline in April and an 8.3% drop in March, retail is reeling. Restaurants are also struggling. At one point during the crisis, restaurants saw "…transactions down 43 percent…," and many think things won't ever return to 'normal.' Just Google "new normal."
Even giants like Amazon are pivoting to match the times and demand. "[They are] converting Whole Foods locations into 'dark stores,' which are dedicated solely to filling online orders." Meeting customer demand is non-negotiable for survival. Some small shops like Wave Hill Breads in Connecticut have kept all employees in part by offering home deliveries.
With every industry adapting to the times, it's only logical that plumbing, HVAC and electrical companies do the same. Customer expectations are changing at a rapid pace, and service providers must rise to meet them.
You likely have updated some of your business policies and procedures. But, is there more you can do to put your techs and customers at ease? Technicians that are less stressed are often more productive, and relaxed customers are more likely to go ahead with that "add-on" option.
Here are two ways plumbers, HVAC techs and electricians can begin to adapt today for success tomorrow.
Two Ways for Trades to Adapt for Success During This Recession
"It's been a very fast-moving evolution of this COVID-19 situation, and new information develops and comes out fairly regularly. We want to be sure we're keeping track of that and tuned into the sources so that as new practices are developed and new procedures should be implemented, we pick up on those new procedures and discontinue the past."

Charles White, VP of Regulatory Affairs – PHCC-National Association
There are countless ways your business can rise to meet this crisis. This list covers two broad categories from expert recommendations. The pandemic is changing society daily, and your business must change with it to succeed.
Meet Customer Expectations with Contact-Free Service Calls and Choice
Pivot. Pivot. Pivot.
The Great Recession brought us companies that ushered us into the digital age and opened up the gig economy—Airbnb, Credit Karma, Uber, Slack, Venmo and Square.

These companies were successful because they looked outside for opportunities as times changed, and came up with products and services the world needed.

Adam Singolda via CNBC
Start by asking what your customers need. Online ordering is giving restaurants and grocers like Mike's Organic a much-needed boost. Why? Customers still needed food in the midst of lockdowns and empty grocery store shelves.
Similarly, plumbing, HVAC and electrical companies are also essential. Toilets still need to be unclogged, and nearly everyone still needs working HVAC systems. But customers still want to minimize contact with others. To meet this need, service providers have started offering contact-free service calls.
Some companies have taken this to the next level. Techs can give recommendations, receive approval and accept payment from the customer's mobile device. The technician and customer are both safer, and businesses set themselves apart from the competition. It's a win-win.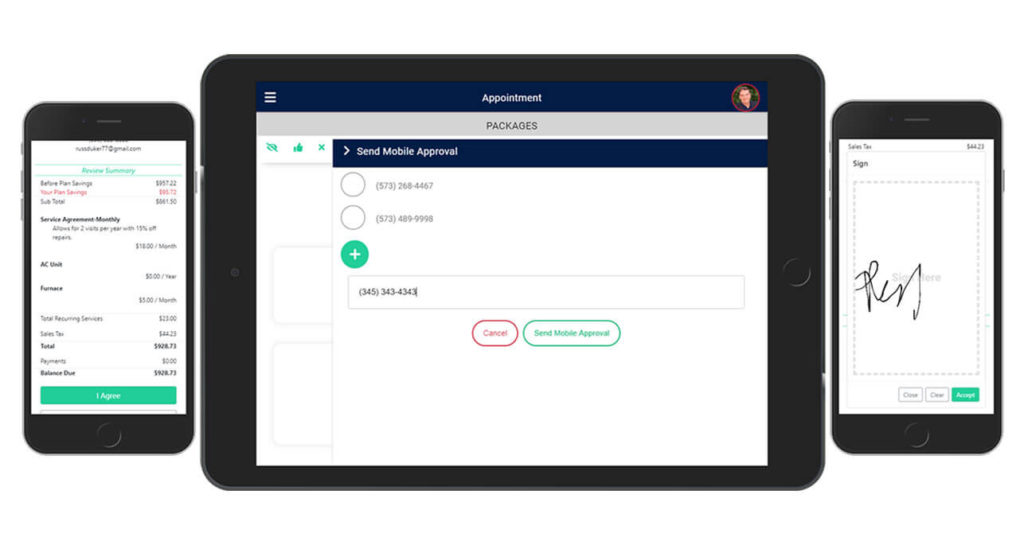 Lastly, customers need options. Technicians are the experts, but they usually are not salesmen. Customers often need to be told what they need or even want. Be sure that technicians can quickly offer Choice on every service call. Customers will appreciate it, and your business will be more efficient during an economic downturn.
Adapt Your Business Processes for Efficiency in the Office and Field
Many businesses have encouraged employees to work remotely even after shutdowns end (see The Verge). Yes, this might help prevent a second wave, but it can also be incredibly efficient. Think about the utility, rent and coffee savings of a smaller office.
For plumbers, HVAC techs, and electricians, it's also important to be efficient with leads. Seeing profit on every service call can be the difference between success and closing your doors.
Make sure your sales system is set up for Financial Balance. Doing this right can result in happier customers, and you'll breathe easier with a better bottom line.
Click here to see how to grow your profit margins while better serving your customers.
Don't Wait. Adapt Your Business Today for Success Tomorrow.
Start adapting. That's the key to surviving and succeeding during this economic downturn. Every difficulty offers an opportunity, and those that seize today's opportunities will be tomorrow's leaders. For the trades, that begins by meeting customer expectations and building an efficient sales system.
To see how Zip Solutions can help your company adapt for success and even your equip office staff to work remotely, Sign-up for a Demo or give us a call at 636-222-2222. With our tools, we're seeing many of our customers not only survive but thrive during this season.