Payment collection isn't usually what inspires men and women to start a field service business. Still, it's a part of doing business all the same. When problems collecting payment happen, that makes them all the more frustrating.
As we've worked and connected with countless service providers in the plumbing, HVAC and electrical industries, we've seen 3 common problems with payments:
Growing accounts receivable (no payment, time spent reinvoicing, and payment disputes)
Accepting multiple payments and deposits (tracking balance due, collecting partial payments)
Insecurity in the payment processing workflow (tracking the payment from the field into the bank account – losing payments.)
These problems reduce profits. Productivity goes down, and even worse, they can create stress that could potentially reduce productivity even further. It's hard to enjoy managing or owning a business without peace of mind. That anxiety can trickle down to every level of an organization.
Fortunately, there are tried and true solutions to stay ahead of these problems.
3 Solutions for 3 Common Payment Collection Problems in the Trades
"Failing to plan is planning to fail."
These following strategies are all pre-emptive. Unfortunately, it's often too late to fix issues after they happen. They need some work upfront, but their benefits far outweigh the cost.
These solutions are based on our experience helping field service businesses grow. They include business best practices and software features.
1) Collect Payment On-Site, Automate Invoicing, and Capture Signatures
Different companies have different policies. Businesses that do residential service often collect on-site. Those that service commercial sites, property management companies, or multi-family units often invoice after the job.
No matter what your policy is, you need to set payment expectations with customers from the first phone call. This may sound overly simple, but it works. Adding a few lines to your CSR scripts can go a long way.
Help your customers know when and how they're expected to pay. It leads to a better customer experience and lowers the time and money spent re-invoicing customers who are late on their payments.
Multiple businesses we work with record all their customer phone calls. Audio recordings are there to prove whether payment terms were given, and disputes can be handled more objectively.
Recording customer approval is equally important. Too often we see companies rely on verbal agreements before work begins. Then, after the fact, customers can claim they never approved the hourly rate or flat rate proposal. Use a system that outlines your payment terms and captures customer approval before work starts. This is essential!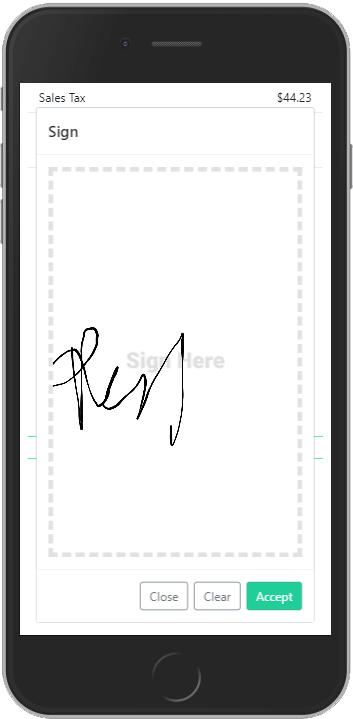 By setting expectations and capturing approval before a job starts, businesses can reduce re-invoicing. Plus, it will reduce your accounts receivable. Customer satisfaction will go up, and your bottom line will love it too. There are few things worse than not getting paid for work already completed.
2) Make It Easy for Customers to Pay Remotely or with Installments
Give your customers options. That doesn't just mean a variety of water heaters. Consumers are looking for convenience, and that includes payment methods. Be ready to accept ACH, debit cards and credit cards. Modern customers expect it.
Not providing these options can delay payment collection. During the COVID-19 Pandemic, cash has seen a decline. Some customers may only be able to pay via card, and calling the office to process the payment is convenient for no one. It's awkward.
By offering remote payment via credit or debit card, it's easy for customers to pay even before the job is completed. Accept payment from their own device or on a tech's tablet. This saves everyone time, and it's a better experience for all.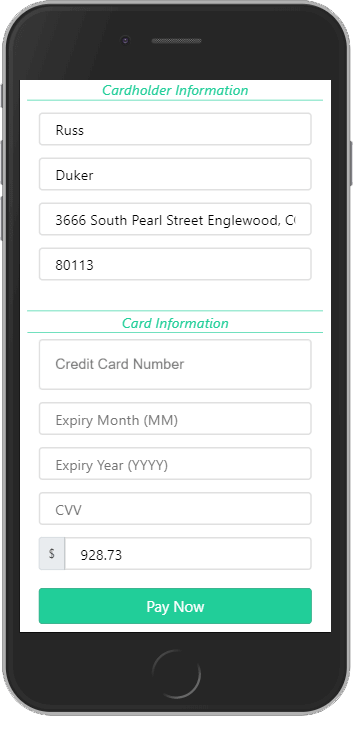 Not only are payment methods important, but it is also important to be able to collect multiple payments for the same invoice – or leave a deposit. This can help ensure that customers don't leave you with an expensive inventory if they change their mind on a project.
These methods make it easier for customers to pay. Less energy is spent on collecting payment, and more energy can be spent on improving the business.
3) Ditch the Paper and Go Digital to Never Lose a Collected Payment
Every field service business has had a technician lose a payment a time or two. It just happens. But by encouraging customers to pay by card or ACH, lost payments will happen less and less.
Plus, going paperless helps your office track missing and overdue payments. Using field service management software, admin offices can organize your invoices in one place. Quickbooks integration makes it even simpler. Always send the right invoice to customers via text or email, and if requested, easily print out paper invoices and receipts.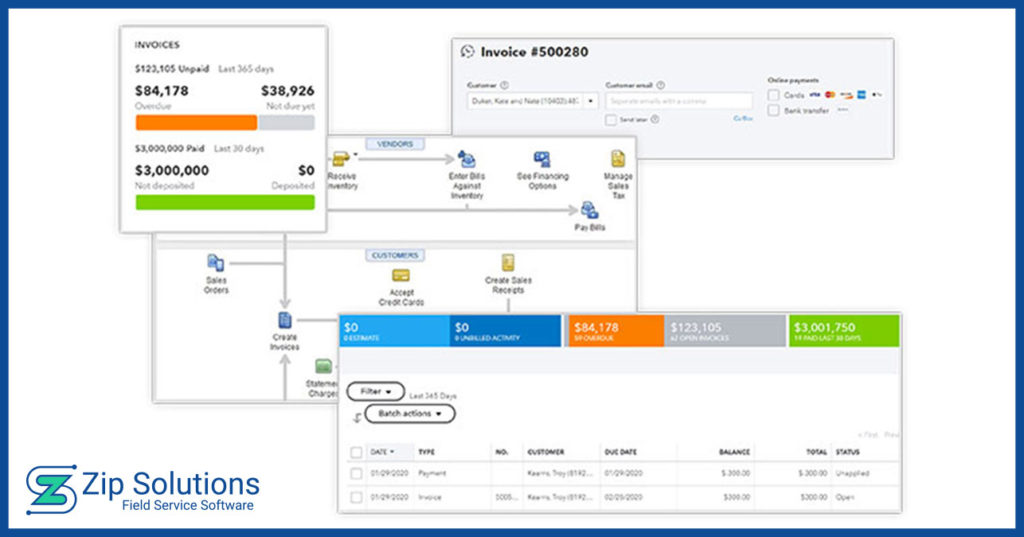 Plan Ahead to Solve Payment Collection Problems Before They Start
Solving payment problems after the fact often comes with big headaches. Start planning ahead now with CSR scripts, multiple payment methods and paperless billing to reduce problems before they start. We're confident your business will better manage accounts receivable, spend less energy getting paid and lose fewer payments.
It does take more work upfront, but we can confidently say that the rewards are worth the effort.
Peace of mind is worth the cost.
Increased profit margins are worth the investment.
Call us at 636-222-2222 for advice on adding any of these solutions to your business systems. Our mission is to help you simplify your office, delight your customers and grow your business. That's why we created Zip Solutions.
We've built remote payment, call recording, Quickbooks integration and more great features right into our software. Each was created to help plumbers, HVAC techs and electricians solve problems like the ones addressed in this blog.
Sign up for a Demo to see these features for yourself or to learn more about the advantages of field service management software.