Dispatch and Field Service Management Software Built for Your Business
Streamline your operations and grow your plumbing, electrical, or HVAC business with Zip Solutions.
Our field service management software was expertly designed specifically for the field service industry,
and that makes our software like nothing else on the market today.
Our features including a Dispatch Board, Quickbooks integration, and more
can help create increased profitability that results in greater security and peace of mind.

QuickBooks Integration
Know your finances and never lose an invoice or payment.

Dispatch Board Software
Monitor your techs' location, sales presentation and performance in our Dispatch Board.

Customized to You
Use our templates or create your own. We don't believe in one size fits all.
We Provide a Pathway to Increased Profits and Peace of Mind for Your Business
Organize your business with Zip Solutions'
field service management software
to reach your next level of stability and revenue
whether you're a solo operator or a service manager
in charge of a fleet of trucks and dozens of technicians.
Don't take our word for it, hear what our customers
have to say.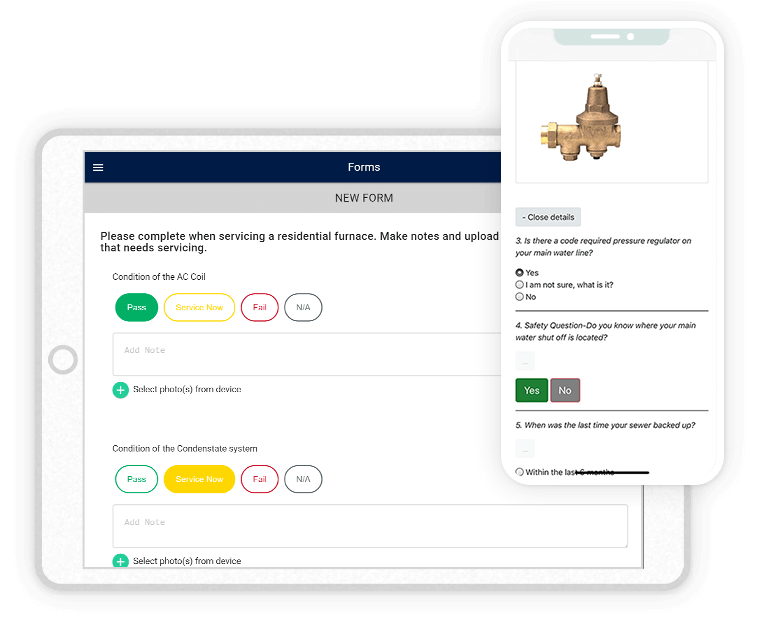 Zip Solutions' Features
QuickBooks Integration
Scheduling and Dispatch Board
Real Time Reporting
Price Books Customized to You
Fleet Tracking
Technician Reporting
Inventory Management
Marketing Tracking
AND MORE
Setup and Support.
Let us be the software experts so you can focus on your business.
We help every customer configure Zip Solutions eliminating headaches and automating administrative tasks.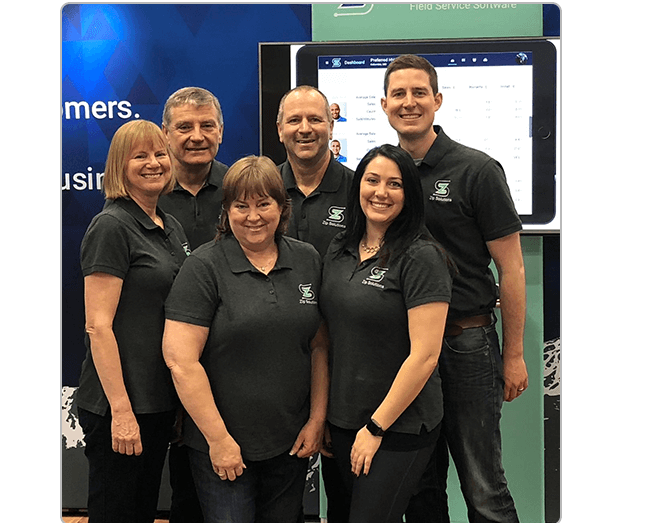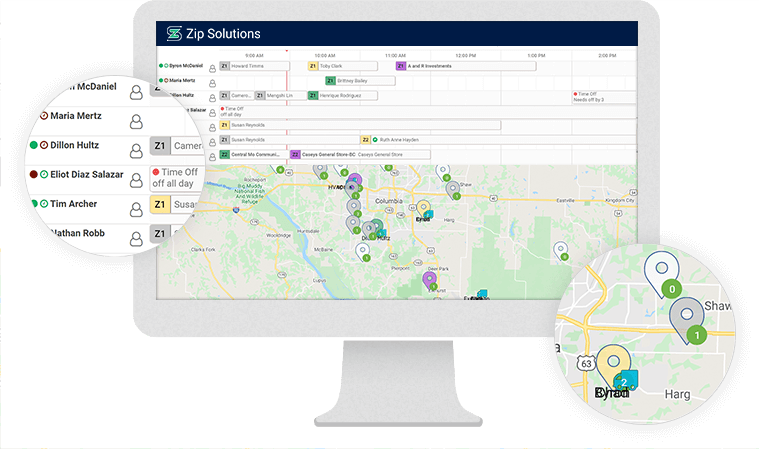 See Your Fleet in Real Time
Know where your fleet and technicians are in real time in your Dispatch Dashboard. Use detailed analytics to schedule and assign service calls to the right technician or technicians to maximize customer satisfaction and profit margins.
Technician Performance Reports
Review your technicians' service calls from their first contact with the customer to the end of a job well done. Then, use data from the call to coach your techs - improving customer satisfaction and increasing revenues.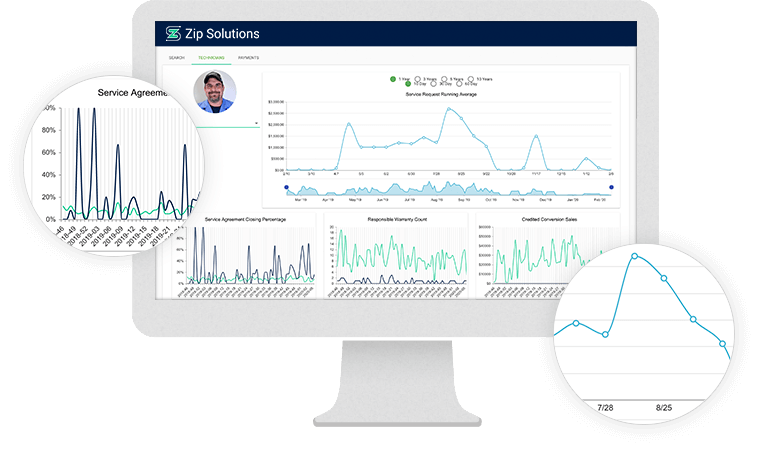 Try It First
Before you choose a plan, schedule a demo to see Zip Solutions in action
so you'll know which features you need for your business to hit your goals.
Find Your Pricing Plan
Whether you're an owner operator or a manager of multiple locations, Zip Solutions' pricing is designed to meet your needs. 'One-Size-Fits-All' doesn't have any place here; we build customized, industry specific pricing packages based on the features you need.
Take our simple quiz to see which features were designed with you business in mind, and we'll match you with the solutions best suited to accomplish your goals.
"Wow! Making packages is dope! It's so easy and fast to create 3 choices. Before we had Zip Solutions, we didn't always give choice because it took a lot longer to create custom options."
Marcus B.
LRS Plumbing - Los Angeles, CA
"I'd like to say thank you to the Zip Solutions team. You guys have been great. The support has been awesome. Our average tickets are up because we are giving options to the customers like we always should have been. The technicians love the program in the field. And, we can see the customers' information and track what we are doing a lot better from the office."
Larry S.
Deluxe Plumbing & Heating Bethlehem - Pennsylvania
"The ability to see the tech view from the office has been a great advantage...Our customers love that they get texts along the process, and the presentation of the options when the technicians are on site has been a benefit for us to show the customer...what they get for that cost."
Devon, Kellen, and Bonnie
Plumbing Paramedics - Calgary, Alberta
"I was trying to run calls and be the person who kept track of everything in QuickBooks. Now I just go do the job and it's entered in QuickBooks for me. The support guys are great. If I ever have a question about something they get it all sorted for me. I'd really recommend taking the time to get your company set up on Zip Solutions."
Shim & Paula F.
SMT Sewer and Drain - Englewood, CO
Work on Any Device!
Use Zip Solutions on iPads, iOS,
Android, Windows, Macs, TV's and any
and all devices with Zip Solutions'
responsive design.