Plumbing, HVAC and electrical technicians by the nature of their jobs comprise a workforce that is dispersed for most of the day. Recent events with Coronavirus or COVID-19, however, have prompted many service businesses to become even more dispersed, and instead of regular in-person check-in's and meetings in an office or warehouse, companies across the country are now dispatching, managing, and tracking their employees without having technicians, dispatchers or CSRs come into the office at all. This shift to a remote workforce has the potential to improve efficiency, but it also will introduce new challenges to the industry.
Remotely Manage Technicians and Customer Reps in the Service Industry
While it may be more difficult to create accountability and team buy-in without in-person meetings and activities, it's now more important than ever with trades being considered "essential services." Homeowners and corporations across the country are relying on small and large service companies to continue to provide excellent service. So, it is important for plumbers, electricians, and mechanical contractors to adapt to the current circumstances. Social distancing while staying open for business isn't just important for the homeowner, it's vital for the financial well being of the employees as well.
With lockdowns, quarantines, and the call to minimize physical contact increasing across the country, it's likely that you have started to implement or, at least, thought about implementing some changes to the day to day operations of your business. Fortunately, Zip Solutions has been helping companies remotely manage their workforce for years – before "social distancing" was even a common phrase. The program is specifically optimized for plumbers, electricians and HVAC business and is designed to help managers, technicians, and owners continue running their business from anywhere in the world.
For remotely managing a dispersed team of employees, any field service management software should at least include the following features, and ideally, they should offer additional features such as inventory management and payment processing that we don't go into here. Below, I've highlighted some of the features Zip Solutions offers to help service companies manage a remote workforce.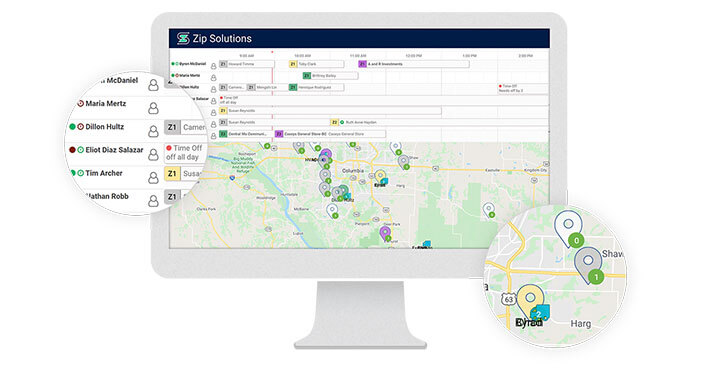 Track Technicians' Locations and Reduce the Cost of Running a Fleet
We have partnered with the GPS/Telematic experts at Webfleet (previously TomTom) for a completely integrated fleet management system. Bringing in Webfleet data to Zip Solutions allows dispatchers to see right where technicians are as they choose who to assign to the next call. When the office sends the dispatch, Zip then automatically sends the routing information to the hands-free dash navigation unit in the truck to reduce liability and comply with local and federal laws. Webfleet then uses current traffic and routing data to reduce drive time reducing dollars spent on labor and fuel and extending the time between preventive maintenance services. The integration also helps extend the life of fleet vehicles by notifying the techs in real-time if they are speeding, accelerating, turning too quickly, or braking harshly. Giving your people live and historical data makes accountability straightforward; managers can help technicians change behavior. They don't even need to hold a meeting or be in the office to make it all run seamlessly.
Minimize Physical Contact to Protect the Health of Techs and Customers
Zip Solutions allows techs to explore unknown needs and wants through a survey that customers can fill out before technicians arrive on-site. This pre-service questionnaire also can help customers be sure all their issues are solved in one trip and help businesses increase their average ticket. Once the technician knows everything that is happening at the house, they are then able to create options for the customer and get approval in person or via email.
Get More 5-Star Reviews and Ensure Techs Get "Paperwork" Completed
Techs can send happy customers review requests via text or email, and service managers can ensure that proper safety and sales processes are followed on every call. Having a specific procedure outlined in software helps prevent having to nag technicians to complete their administrative responsibilities which can help give the office more peace of mind.
Never Miss a Phone Call – Even with Team Members Working from Home
Zip Solution's Telephony features empower employees to answer the phone from anywhere that has internet. Everyone can view customer information as they call in to ensure that no calls are missed. Managers also have the ability to record and audit all incoming and outgoing calls whether those are from the office, from a representative's home office, or on technicians' cell phones. Monitoring phone calls helps create more accountability and unity among employees – even if they are physically separated.

These are just a few ways Zip Solutions makes managing a remote workforce easy for plumbers, electricians, and HVAC companies. If you think some of these tools could be helpful to you as you try to manage your remote workforce, sign up for a demo by clicking here or calling us at (636) 222-2222, and we'll quickly give you the information needed to make an informed decision. It's that simple. Our mission is to help businesses simplify their office, delight their customers, and grow their business, and today, adapting to the times is possibly more important than ever before.