Giving customers options is a requirement of running a successful service business in today's market. Franchise restaurants, car companies, cell phone manufacturers and nearly every trade have trained consumers to expect choices in their buying decisions, and the service industry should be no different. For that matter, field service providers also need choices. Plumbers, HVAC and electrician companies choose suppliers that give their customers the best hardware and appliance options, and in the same way, their field service software needs to be flexible enough to provide the right financing options.
Field service management software should empower owners and managers to take better control of their businesses. Being forced to jump through hoops lowers the return on the investment in a software platform, and restrictions on financing options and providers almost definitely do not help establish peace of mind. If a company's processes aren't working for the owner, it might be fair to say that the processes or software are owning them.
3 Must-Have Financing Options in Field Service Management Software
Below, we've listed out 3 things we believe every field service management software platform should offer its users:
Customizable Financing Options That Work with Any Financing Company
Make sure the field service management software works for the business. This is critical. To be frank, it's unfair to expect service providers to fit into a "one-size-fits-all" solution. Every business is different. Some financing companies are a better fit for different businesses, and a field service software should work with your financing plans not someone else's plans. Use the tools that give you the options you need to offer the right options to your customers.
The Ability to Use Multiple Financing Companies with Any Price Book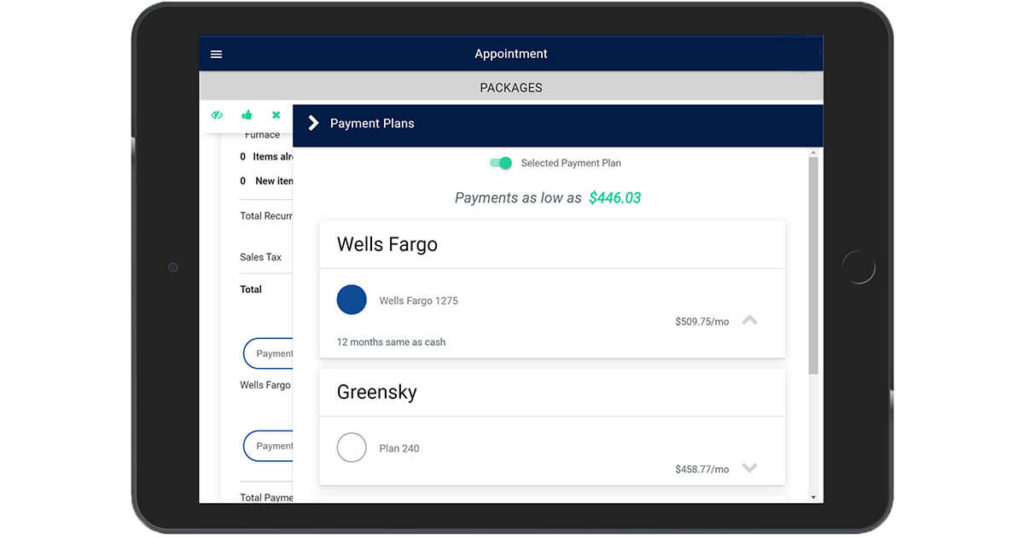 Pick a software tool that better equips service managers to meet customers where they are. Managers often need to tailor product packages to match different customer types, and by doing so, it can help technicians offer the right options on every service call. In the same way that no business is alike, every customer is different. Each customer has their own unique needs, and forcing them to fit a mold that doesn't fit often results in lower satisfaction and lower profits. Your field service management software should allow you to create packages that match your price book, period.
Pre-Built Product Packages that Empower Techs to Present Options
Below, are three HVAC Presentations that make sense. Three different views of the same three choices.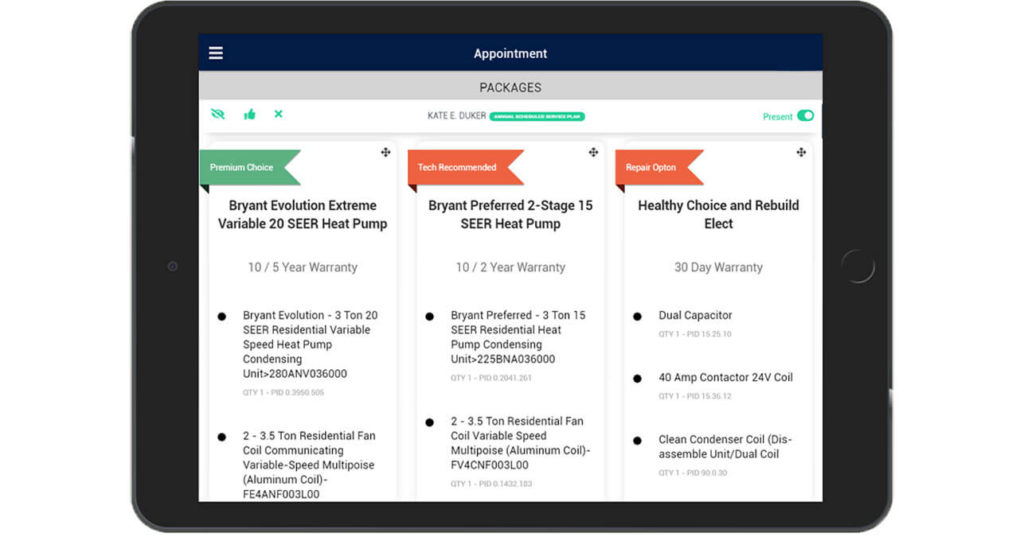 Before displaying price, you're building value.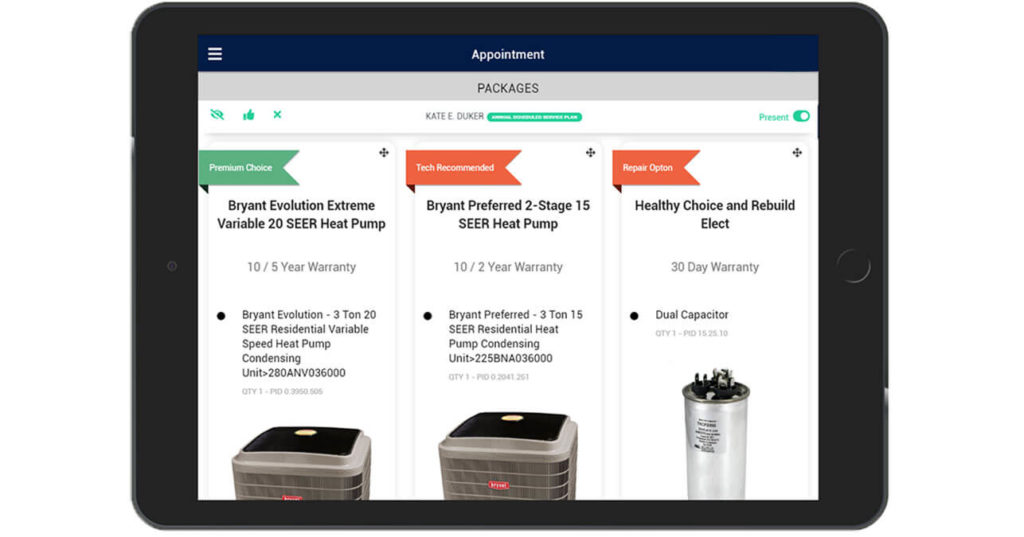 Then you add photos, videos and detailed descriptions.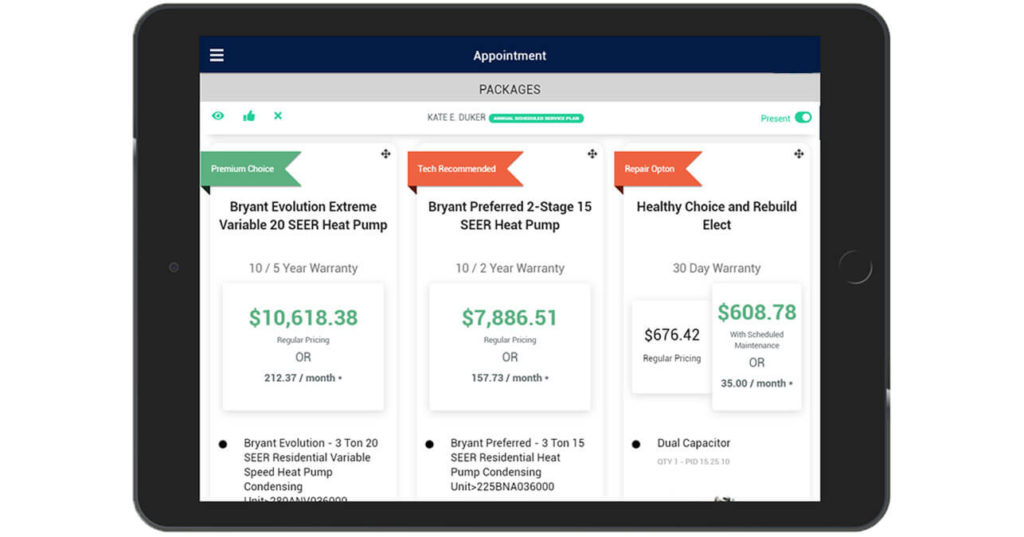 Finally, you show the price so the customer can make a value judgment after having understood the value. It introduces the topic of financing then later allows the customer to pick their ideal financing plan specific to their selected option.
Use software that makes service calls easier for customers and employees. After a few swipes on a tablet, technicians should be able to offer pre-built packages with customized financing options from any financing company. The monthly payments can be auto-configured based on the terms set by your financing companies. Being able to quickly present packages and financing plans is essential to customer satisfaction, and as a result, you're likely to see greater revenue. Technicians need to be able to offer multiple financing options to customers without calling the office.
When choosing the best field service management software solution for your company, you should make sure that it at least covers these 3 areas. It can help lead to greater security in managing your business, and it will help you see happier customers.
Sign-up for a demo to discover if Zip Solutions is the right option for your company. We'll make sure that it works how you need it, and our support team can tailor our software to match your processes, price books, financing options and more.
Start using the right tools in your business to experience more peace of mind and greater profit margins.