Last week, the White House unveiled its Opening Up American Again criteria for reopening the economy. These guidelines are layered, and we fully recommend every business owner reads them. Essential businesses may wonder how these guidelines apply specifically to their businesses. What does it mean to reopen the economy as an essential business? And, what steps should be taken as the economy is reopening?
Many plumbers, HVAC, electricians and other service providers have remained on the job during the pandemic for emergency service. For those essential businesses that have stayed open and for those who are reopening, it is very important to learn about and adhere to the new guidelines for opening up the economy.
Most importantly, customers will expect businesses they employ to match the guidelines and safety procedures. Implementing these procedures will also encourage your employees to continue working. To help, we've created some simple steps to meeting these expectations.
3 Steps for Essential Businesses as Reopening the Economy Begins
Before beginning, it goes without saying we're not health experts or government officials. Businesses should follow their local leadership in reopening the economy. Different areas will open at different times, but these three steps should apply to every phase of the recovery.
1. Clearly Communicate Policies to Employees, Customers and the Community
I am a strong believer that there is no such thing as over-communicating. There is, however, bad or confusing communication. Take this story as an example.
A gym with multiple locations had to furlough nearly all of its workers at the beginning of the Coronavirus pandemic. They sent out this letter to employees: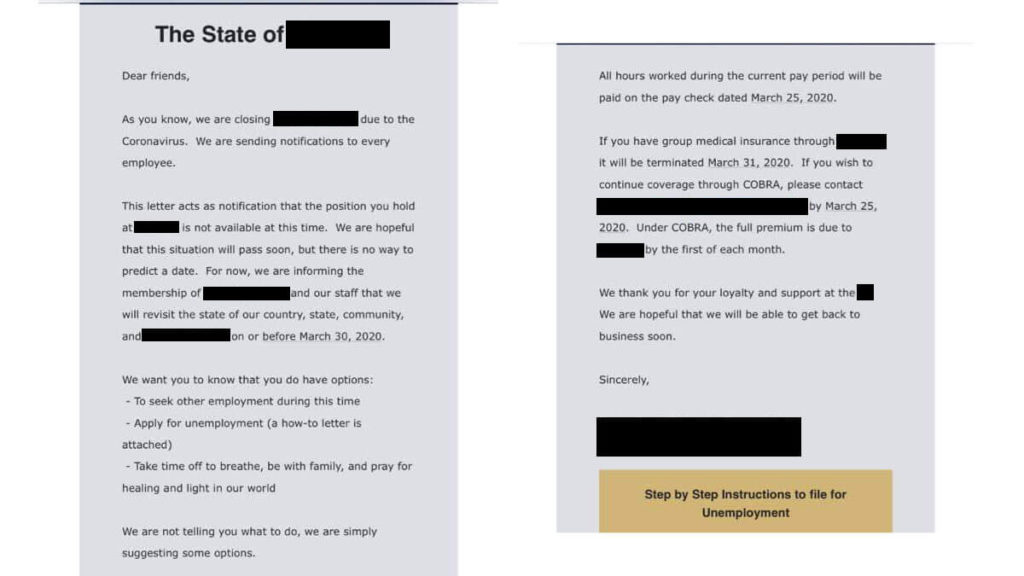 Despite not mentioning anything about membership dues, the following Facebook post was shared 232 times.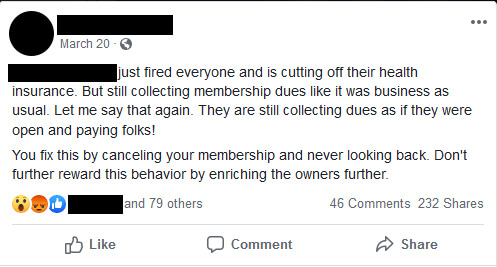 The gym received a lot of bad press based on misinformation. They weren't collecting membership dues, and they tried to communicate that fact on their website.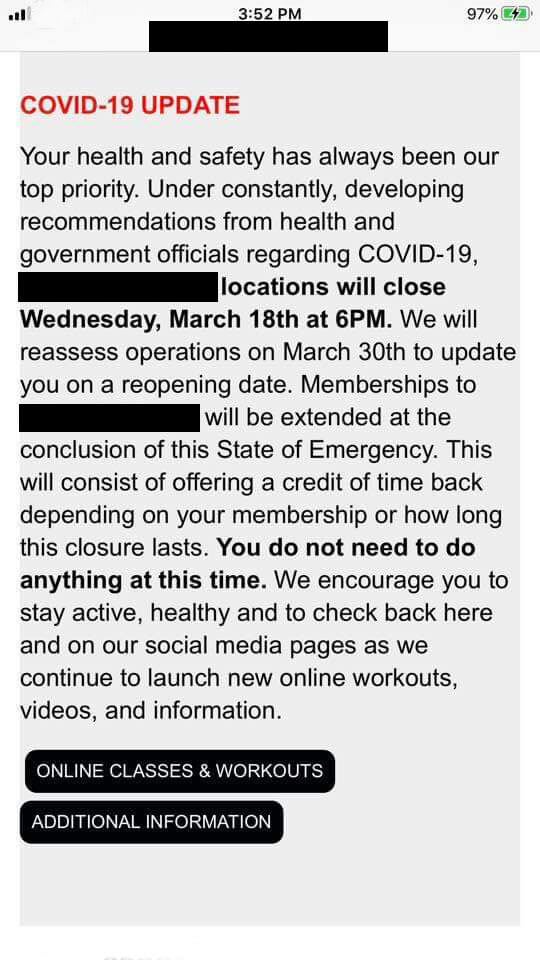 One of the owners had to respond with a letter published on Facebook, but their post was only shared 28 times. Even with their employees sharing positive posts about the company, a lot of damage was done.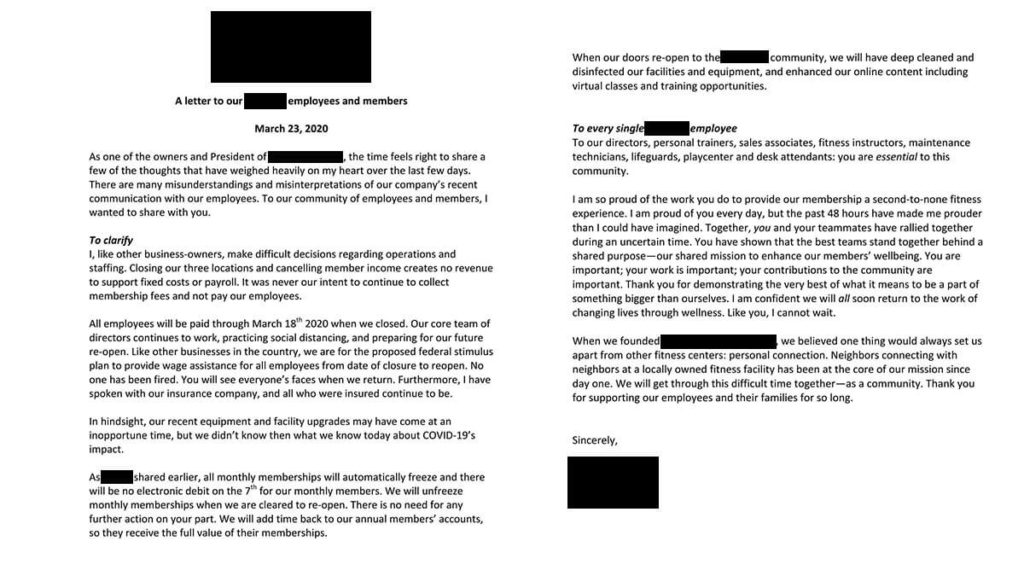 The owners of the gym appear to have tried to do the right thing. The business furloughed employees so that they would be eligible for unemployment benefits and still receive temporary health care through the company. Despite their good intentions, they received a lot of negative press. A local news station even covered the controversy.
This story illustrates how important it is to clearly communicate, even over-communicate. The original letter was meant for employees, but a misunderstanding resulted in it affecting customers.
Set clear expectations with employees and customers in reopening the economy. Do not assume employees know the plan. Clearly define the steps you are taking, and then, make it easy for anyone and everyone to find the details.
Also, make it clear to customers how your business is changing and do not assume customers know about contact-free service calls or techs wearing PPE. Post on social media and send out emails to assure customers of the steps you're taking to keep them safe.
2. Minimize the Risk to Employees and Customers with Safety Measures
The following is the White House's Opening Up America Again guidelines for employers during every phase of reopening the economy.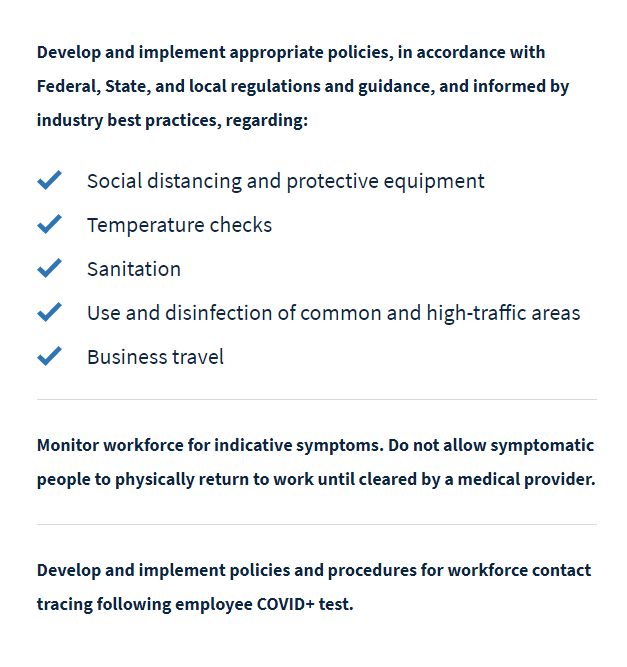 Some essential businesses are already following these guidelines, and you may be one of them. If you are, you probably know that many of the items needed for this step are hard to find. We recommend ordering supplies such as thermometers, gloves and hand sanitizer now if you haven't already.
In a news article on reopening the economy, Teamsters Union President James Hoffa recently said, "We can't ask people to go back to work unless you're confident they have a safe workplace…"
Be sure to communicate your safety processes with employees. They need to know well in advance where to report to have their temperature taken. Plus, snap a few pictures of these procedures in action to post on social as part of your marketing. Letting your customers know you are looking out for their safety may help differentiate you from your competition.
Lastly on this note, we recommend adding tools to help minimize the time employees spend in the office. Zip Solutions allows our users to remotely manage their entire sales process, and that includes contact-free service calls. Technicians can be dispatched from their driveways. CSR's can answer calls from home. Dispatchers can see techs' locations in real-time. Your customers will feel safer, and your employees likely will too.
3. Motivate Employees with Good Leadership and Strong Incentives
Essential workers have faced a lot of stress during the pandemic. While many are forced to stay home, plumbers, HVAC techs and electricians continue to enter others' homes. Their skills are essential to society, but that doesn't mean it's business as usual.
In a trade-association forum in which we participate, a service manager told a story of a technician being coughed on before applying his mask, and it "kinda freaked him out…" Yikes. Though healthcare workers have the heaviest burdens, the trades certainly have experienced some anxiety.
Additionally, the high unemployment benefits from the CARES Act can almost make losing a job appealing. I've heard at least one first-hand account of employees joking to their managers about quitting. Combine this with the anxieties from the pandemic, and it can be a challenge to motivate technicians to stay on the job.
"To work through the challenging time we're all facing, you need to make sure your employees are engaged, motivated and feel valued. By connecting personally with your team, delivering rewards and incentives that resonate with them, and addressing any issues quickly and clearly, you'll make sure your team is up to the test."

Robert Glazer for INC.
We couldn't agree more. To help reopen the economy, be sure to connect with your team. Make sure they know they're appreciated, and discover what keeps them moving forward.
Use tools to help track technician compensation especially if you've applied for a PPP Loan. Zip Solutions' Gamification features allow managers to create customized incentive plans that can be automatically tracked and measured. This is a fun way to bring competition and transparency to your team.
Don't Wait to Prepare Your Business for Reopening the Economy
The time is approaching for businesses to start re-opening the economy. The White House's Opening Up America Again guidelines offer a framework, and some governors have already started the process in their states. These steps can help essential businesses (and other businesses too) be prepared to enter "Phase 1" of reopening the economy.
Clearly Communicate Policies to Employees, Customers and the Community
Minimize the Risk to Employees and Customers with Safety Measures
Motivate Employees with Good Leadership and Strong Incentives
Don't wait. Start these steps today. While you're at it, sign-up for a demo to see the tools Zip Solutions offers essential businesses for contact-free service calls, remote offices, technician incentive plans and more great features. Plus, we're more than happy to connect you with other service managers and owners navigating the same issues. Contact us here on our website or give us a call at 636-222-2222.